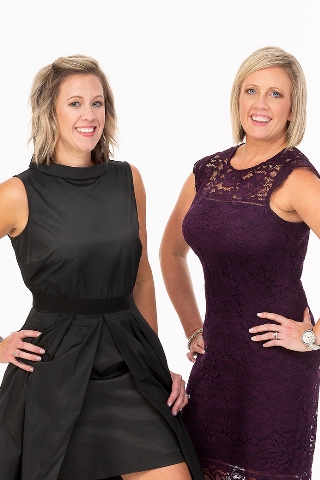 The Sisters Sold It
The Sisters or The Sisters Sold It is what our clients tell their friends and family when they are asked who helped them buy, sell or build their new home.

In 2018 we helped 63 Families Buy or Sell Homes. The Pittsburgh Business Times Ranked us #60 for the Top Residential Real Estate Producers in Pittsburgh for our sales in 2018 out of the nearly 7,000 licensed Real Estate Agents.

Reviews: Check out our 5 Star Reviews on Zillow and Facebook
Email: TheSistersSoldIt@gmail.com
Call/Text Eileen:412-759-2325
Call/Text Shannon:412-518-1082

Facebook:The Sisters Sold It - The Allan Assad Team
Website:www.AllanAssad.com
Instagram:EileenAllan_Realtor & ShannonAssad_Realtor

We work with clients all over Pittsburgh with a large focus in the South Hills where we both live. When we are not selling homes, we enjoy spending time with our families (we both have a 5-year-old and a 4-year-old).

We are known for our exceptional client service and pride ourselves on exceeding every client's expectation. When selling a home, we provide our clients with an aggressive marketing plan with a huge focus on social media to gain the ultimate exposure and get their home sold quickly. We include a complimentary home enhancement guide and a pre-picture staging consultation to have their home look its best before pictures and before it goes up for sale. We contract a professional real estate photographer to photograph the inside and outside of your home.

In May 2018 we were featured in the Pittsburgh Real Producers Magazine as the Rising Star. "Their innovative direction and attention to detail is what make the sisters' team such a prominent force in the industry and why they are continuing to prove that they are "Rising Stars" -Real Producers.

Contact us to find out how we can help you buy your new home OR for a FREE market analysis of your current home's value. We can discuss how our marketing plan will set your home apart from others! When people ask who sold your home, we hope you can say "The Sisters Sold It"!


17 Years Combined Real Estate Experience
Experts in New Construction
Previously sold homes in Allegheny, Washington and Butler County
Tech Savvy and Quick to Respond to Inquiries
Eileen 412-759-2325
Shannon 412-518-1082
TheSistersSoldIt@gmail.com
#TheSistersSoldIt
SUCCESS is Where Preparation and Opportunity Meet
Certifications
Relocation Certification
Luxury Homes Specialist
E-Certified
Chairman's Circle
Preferred Masters Accreditation
Contact Eileen